History
Geo-Steering Solutions Inc. (GSSI) provides 24-hour geo-steering services to domestic and international oil and gas companies.
GSSI is operated by two friends, Darrell Joy and Neil Tice. Having met through their work within the industry, the pair bring extensive geological, field and project development expertise to GSSI.
Darrell and Neil identified a valuable service that requires a specific skill set and knowledge base: geo-steering.
Since incorporating, GSSI has grown exponentially and currently operates from three locations: Calgary, Alta., Denver, C.O., and Houston, T.X. It lists a number of high-profile oil and gas companies as clients.
As experts in their field, GSSI's team of specialized geologists have geo-steered through all major North American plays, including Eagle Ford, Bakken, Marcellus, DJ Basin, T.M.S., and the Permian Basin. In 2013, the company expanded overseas, navigating the Karababa Basin in Turkey.
Despite the company's growth and success, Darrell and Neil remain intimately involved with the day-to-day operations. GSSI's roster of geo-steering geologists have been hand-picked for their expertise, commitment and integrity. Together, the team has earned a well-deserved reputation as a niche service provider for energy sector.
Corporate Team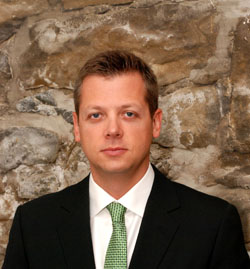 Darrell Joy, P. Geol.
President and Chief Executive Officer
Darrell brings 20 years of oil and gas experience to Geo-Steering Solutions Inc. Originally from Newfoundland, Darrell began his career as a wellsite geologist. Before launching GSSI, he was focused on shale play development as a geological lead for a major oil and gas company.
Darrell has a Bachelor of Science in Geology from Memorial University in St. John's, Newfoundland. He is a licensed P. Geol. With the Association of Professional Engineers and Geoscientists of Alberta.
He currently resides in Calgary with his family.
Neil Tice
Chief Operating Officer
Hailing from British Columbia's Lower Fraser Valley, Neil comes to GSSI with a decade of experience in oil and gas. He got his start working in the field in Northern British Columbia and, in 2008, began geo-steering high-profile plays.
Neil attended the University of Calgary on a wrestling scholarship. He is a member of the Canadian Society of Petroleum Geologists.
He currently resides in Calgary with his family.